Grundfos AP50B-50.08 A1 Submersible Pump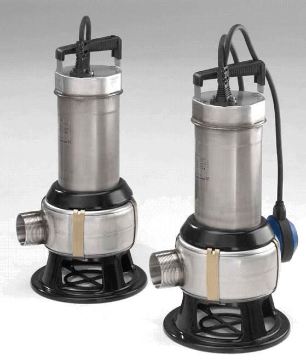 The Grundfos AP50B-50.08 A1 is a standard sewage treatment automatic submersible pump, used in pump stations only, complete with integral float switch.
The pump has a 0.80kW 240V 1Ph 50Hz motor and floatswitch as standard.
The Unilift AP50B is a single stage pump with vortex impeller.
All Unilift AP pumps are made of stainless steel with a composite baseplate.
The range is designed for submerged operation, either free standing on the base plate or installed on an auto coupling.
The base plate is clipped on by four clips which are hidden under the composite ring at the top of the pump housing - this ring prevents dirt from sticking to the clips.
£390.00 plus VAT - CLICK ON IMAGE TO ORDER
Applications
Water and rainwater in horticultureWater from rivers and lakes
Rainwater, drainage water and water from flooding
Water for filling/emptying containers, ponds, tanks, etc
Effluents from showers, washing machines and sinks below sewer level
Pool water
Ditch drainage water
Groundwater (lowering applications)
Domestic effluents from septic systems and sewage treatment plants
Liquids containing fibres from light industry, laundries, etc
Effluents from viaducts, underpasses, etc
Drainage water from garage sprinkler system

Tech Data
Weight - 10.9 Kg
Dimensions - 455mm x 210mm 210mm
Manufacturer - Grundfos
Manufacturers Warranty - 2 Years
Material - Stainless Steel
Connection Type - 2 Inch BSP Male
Voltage - 240V 1Ph 50Hz
Max Flow - 6.67 l/s
Max Head - 10m
Full Load Current (FLC)5.37A
Cable Length - 5 Metres
Float Switch - Yes