Pedrollo Top 2 Vortex Submersible Pump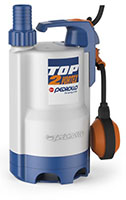 Pedrollo TOP 2 pumps are suitable for lifting dirty water not containing abrasive or chemically damaging substances.
They have been designed for easy use and are extremely reliable even when subjected to continuous use (subject to correct installation).
The motor is fully cooled and has an ample reserve of power plus a double seal system with barrier chamber of bio-degradable oil
The motor and the pump are easily removed, making maintenance and repair simple.
These pumps are particularly suitable for septic tank and sewage treatment plant effluent, draining flooded areas (basements, garages etc.) emptying swimming pools, tanks and aquariums, waste household water disposal (dishwashers, washing machines), supplying garden fountains, small scale irrigation for gardens in general from collection tanks and emptying sump pits.
£190.00 plus VAT - CLICK ON IMAGE TO ORDER
APPLICATION
Discharging domestic wastewater from Sewage treatment plants and septic tanks
Clearing dirty water, emptying tanks, discharging domestic waste water and for emptying collection traps containing suspended solids up to a maximum of 20mm grain size.
Not suitable for draining PONDS
Application Limitations
Immersion limit:- 3m Maximum liquid temperature:- +40°C (max. +90°C for a maximum of 3 minutes intermittent service)
Passage of suspended solids up to 20mm grain size
Suction down to 25mm above ground level
PERFORMANCE
When designing performance levels for TOP pumps, special attention was given to typical requirements for domestic usage.performance curves specially designed for high delivery rates at the low installed power rating
Curve tolerance according to ISO 2548.
STRUCTURAL CHARACTERISTICS
DELIVERY BODY made from fibreglass reinforced techno-polymer, particularly resistant to mechanical stress, knocks and corrosion, fitted with UNI ISO 228/1 1 inch or 1¼ inch gas threaded vertical delivery port.
SUCTION STRAINER made from fibreglass-reinforced techno-polymer, providing the support base for the pumpTechno-polymer
HOSE CONNECTION with screw fittingGeneral Electric Noryl techno-polymer open IMPELLER
EXTERNAL FLOAT SWITCH for automatic pump operation.
AISI 416 stainless steel MOTOR SHAFT
DOUBLE SEAL SYSTEM carbon / ceramic (or optional silicon carbide hard faced) mechanical seal on the pump side, and lip seal on the motor side. A barrier oil chamber of biodegradable oil lubricates and cools the sealing surfaces in the absence of water.
Sealed induction MOTOR suitable for continuous duty with built-in thermal cutout device (motor protector).
INSULATION class F (provides the motor with a considerable overload tolerance and substantially increases the service life of the motor itself). The motor is cooled by the pumped liquid.
PROTECTION IP 68.UK pumps supplied with 10 metres of cable. Other alternatives on request.
CONSTRUCTION AND SAFETY STANDARDS in compliance with EN 60 335-1 (IEC 335-1, CEI 61-150) EN 60034-1 (IEC 34-1, CEI 2-3)